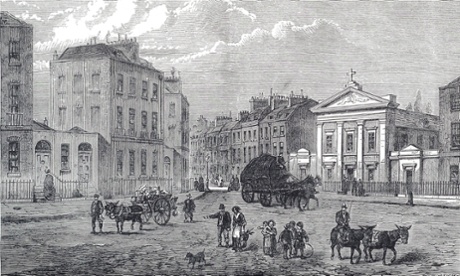 The Polygon of Somers Town in an etching from 1850. It was demolished in the 1890s and a modern housing estate occupies the site. Photograph: Alamy (from theguardian.com)
Seeing the city's near-2000 year history mapped in minutes
I have always been in love with London. A glorious city enveloped in so much history, beauty and endless things to see and do. I remember the first time I visited London Town when I was 17 years old. My mind was already filled with so much historical facts about the city, from the time of Roman Londinium to the Tudor period and always fascinating Victorian era. Seeing the buildings and streets unfold this history to my teenage eyes was incredible. Walking through it and as a part of it, even more so.
With this pleasant memory in my thoughts, I came across a very fascinating video the other day from
theguardian.com
that visually maps the capital's transformation from a small area of dwellings to the modern metropolis that it is today. Once you actually see this 7 minute display, you are truly left amazed at how the city has changed, evolved and - particularly - grown in the last two millennia.
The video itself was created by researchers at UCL's Centre for Advanced Spatial Analysis and took 9 months to make. They essentially collated vast datasets to show how much was built in London during different key historical periods. It also maps out what has been lost, what saved and what protected, in terms of buildings and structures:
"Unlike other historical cities such as Athens or Rome, where there is an obvious patchwork of areas from different periods, London's scheduled sites and listed buildings are individual structures, in many cases assembled gradually by parts from many different periods. Those who try to locate different historic structures will know that these features appear as pieces of different jigsaw puzzles, scattered across the contemporary city."
What I especially found fascinating was seeing how London, once crammed into a single square mile (today's City), expanded drastically into the 600 square miles of Greater London - particularly in the last 200 years. There is also a 3D version of the video being currently worked on - can't wait for that spectacle!
Sit back and enjoy.
Vital Link:
Check out the detailed and original article @
http://www.theguardian.com/cities/2014/may/15/the-evolution-of-london-the-citys-near-2000-year-history-mapped?CMP=EMCNEWEML6619I2